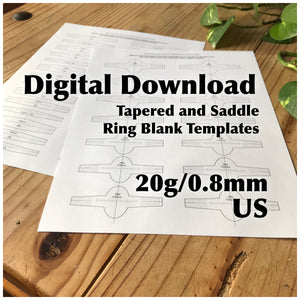 Metalsmiths! Have you ever wanted to make a ring band or a saddle ring and didn't know quite how to... start? I've got some templates that will help you out! Print, stick and saw—I've done all the size calculations for you!
This listing is for one [1] PDF, two pages:
• 20g/0.8mm ring templates [saddle rings and tapered bands]
Sheet size: 8.5" x 11"
These are downloadable files. Templates can be printed and used as many times as you wish. Once you purchase this listing you will have access to the files, and therefore can NOT be refunded or exchanged. They are a final sale.
***
Once you have downloaded the files, print them out at 100%. This is key! If you enlarge or reduce the file to "fit the page" the ring sizing will be incorrect. Each ring blank has size markers from US 1-14, as well as the gauge of sheet it corresponds with. Simply adhere the trimmed ring blank to your metal sheet [I like to use double-sided tape] and pierce. I usually cut the ring slightly larger than the size I'm shooting for so that when I file the edges flush for soldering I have accounted for the loss of metal.
***
*BEZEL INSTRUCTIONS*
These are the basic steps I take when I make a bezel to fit a curved surface, be it a saddle ring or a wide band ring. Please keep in mind this is just how I do it. You might find a different way/method/step suits you better.
Pierce out the [saddle] ring and trim ends [file, sand etc] to the desired size. After that, follow the steps below:
1. Solder and form [saddle] ring
2. Shape and solder bezel wire [you'll want to choose a bezel wire that is almost twice the height of the stone]
3. Determine the size of your saddle ring
4. Wrap a fine grit sand paper around a ring mandrel at the size of your saddle ring
5. Gently sand the bezel down at the size noted on the ring mandrel. Too much pressure will squash the bezel. I tend to sand slightly off-centre [I pull to one side], and need to consciously sand to the left to make sure I'm sanding directly north/south [does that make sense?].
6. Keep checking the fit against the saddle ring
7. Colour the bottom of the bezel with black sharpie, then sand some more to see where you still need sanding. Once the black sharpie is gone, you're pretty much set!
8. If your bezel is still too tall for the stone, sand or gently file down the TOP. If your stone is rocking from side to side on top of the ring, to stabilize the stone in the setting you can use either little wire bits or thin plastic [I use milk jug plastic].
This is not a quick process, but when you've done it a few times you'll figure out little things for yourself that will speed up your process. The key to getting a tight fit on the bezel to ring band is to keep sanding and checking.

*If you use my templates, I'd LOVE to see what you make! Please include a photo of your completed projects along with your feedback, or tag me on Instagram [@kristinbuhlerdesign]!